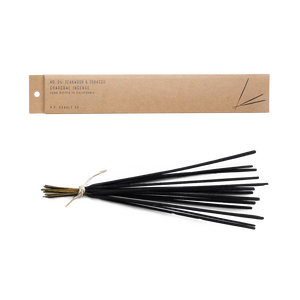 We were never big on incense until we discovered P.F. Candle Co.'s incense sticks!
They keep our homes smelling amazing for hours. 


Scent Description

The one that started it all. Some call it the boyfriend scent, we call it the O.G.
Notes of leather, teak, and orange.

Ingredients: Our charcoal-based incense is hand-dipped in our Los Angeles studio using fine fragrance oils and dipropylene glycol (DPG), a synthetic base commonly found in body care and home fragrance products.

Duration: 
Burn time: 1 hour each stick
Scent longevity: 2-4 hours 
Size: 15 sticks in each kraft package, each stick measures 10.75" long