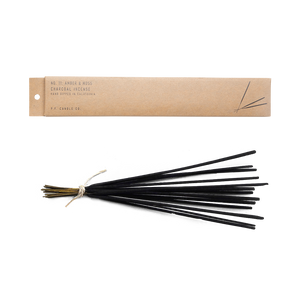 We were never big on incense until we discovered P.F. Candle Co.'s incense sticks!
They keep our homes smelling amazing for hours. 


Scent Description

A weekend in the mountains, sun gleaming through the canopy.
Notes of sage, moss, and lavender. 
Ingredients: Our charcoal-based incense is hand-dipped in our Los Angeles studio using fine fragrance oils and dipropylene glycol (DPG), a synthetic base commonly found in body care and home fragrance products.

Duration: 
Burn time: 1 hour each stick
Scent longevity: 2-4 hours 
Size: 15 sticks in each kraft package, each stick measures 10.75" long