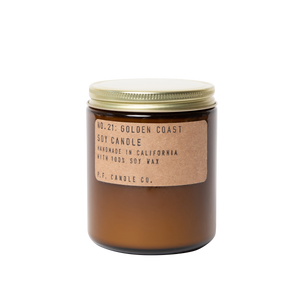 P.F. Candle Co. is an artisanal candle company based in Los Angeles.The entire collection is vegan, cruelty-free, and phthalate-free, and all of their candles are made with 100% domestically-grown soy wax. Each candle is hand-poured in an amber glass jar with a simple label and brass lid. 40+ hours of burn time.

Scent description
Big Sur magic, wild sage baking in the sun, the rumble of waves and rocks.
Notes of eucalyptus, sea salt, redwood, and palo santo.
Ingredients: 100% natural soy wax, phthalate-free premium fragrance oil, cotton wick 
Burn Time: 40-50 hours
Size: 7.2 oz, 2.9" x 3.5"